A year ago I started pondering whether I should do a podcast. I was having a lot of fun being a guest with friends for their podcasts, which were simply just a chit-chat! But they really do help to build a sense of community, especially with life being so fragmented due to the current circumstances. So I thought, why not host one for geographers around the world? Then around the turn of the new year, I started to make plans and see if it would work… And now, after a few successful recordings, the first episode of the Coffee & Geography podcast is just a few days away!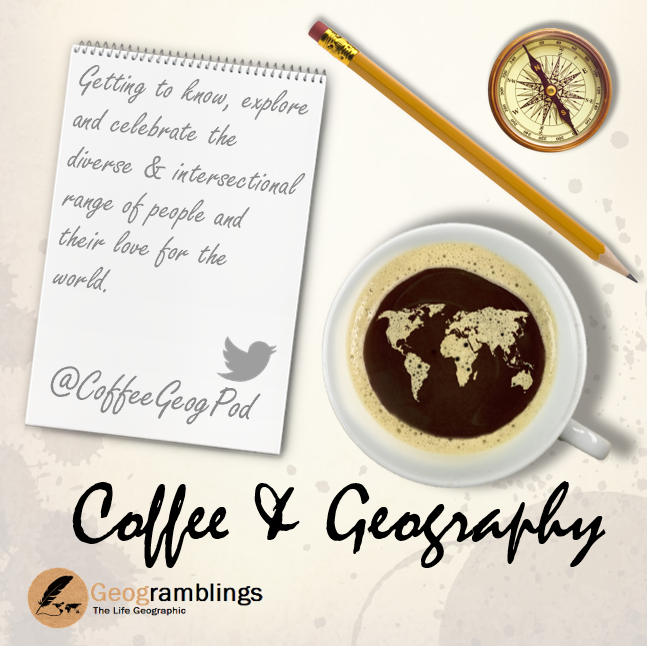 The aim of Coffee & Geography is to get to know, explore and celebrate the diverse & intersectional range of people and their love for the world, by exploring all the myriad of ways that connect peoples life to geography.
Where can you listen and subscribe?
The podcast is hosted on Soundcloud, but will be accessible via most of the popular podcasting or music apps such as Apple Podcasts, Spotify, Google Podcasts and Amazon Music. I'm a complete newbie to podcasting, so I did a test episode about me, the host to ensure distribution is ready to go!
Podcast comes with **free** GIS map!
The podcast comes with a map of the ever-growing 'Coffee & Geography' podcast community. You can find geolocated information about our current, future and potential guests! Is your area not represented? Then consider getting involved!
Also mapped are the brews and beverages enjoyed by guests as they were on the show, making for a great enquiry about how we are connected around the world by what we drink. As time goes on, I may make some educational material to go with it. In the meantime, go explore!
I really can't wait for you all to listen. The guests I have spoken to so far have been amazing, and I have some wonderful people lined up!