Before I start, all my education work via the Geogramblings' "Life Geographic" blog is done all in my spare time, at my own cost but is free for you to access and enjoy. If you can spare a few pence, I'd be delighted if you could show your thanks by 'buying me a coffee'. Thank you!
The Gridserve Electric Forecourt just outside of Braintree, Essex in the East of England is the first of it's kind in the world. Gridserve are hoping to build a hundred of these, with the next one being in on the eastern outskirts of Norwich. This kind of infrastructure is absolutely necessary because of the government's mandate to move to 100% sales of new cars only being electric vehicles. The infrastructure for electric vehicles is very lacking at the moment, so these forecourts are very welcome.
There is more to the forecourt than meets the eye. If you are interested in, or teach, issues regarding transport, sustainable development, climate change mitigation, elecrtric vehicles and renewable energy, then read and watch on. The video was filmed on-location.
It's not every forecourt that you leave your car 'at the pump' and then head inside while you juice up. The Gridserve Forecourt is more like a service station for electric vehicles or 'EVs'.
The forecourt is situated just off the A131 Great Notley bypass which intersects with the busy A120. This links Stansted Airport to the west and the Port of Harwich to the east.
Inside, at first glance, it seems like your typical but pint sized service station where you can pick up snacks, magazines and gadgets for the road or grab a pastry cake, coffee or tea. But venture upstairs and there is a play area for the kids with an augmented reality screen and digital games. There are bookable meeting rooms, an open-plan showroom to find out whether buying or leasing an EV is for you, a presentation space and an exhibition area. While you won't find a full gym here, you can pump your legs for a bit and one of two exercise bikes. It's a sneaky way of generating tiny bits of energy back into the building, but let's keep that a secret!
I spoke to one of Gridserve's EV Gurus, Declan McLaughlin, who took some time out of a busy educational day. I wanted to get the low-down from an educators point of view, and got some really interesting facts and thoughts that will be useful for high-school teachers and students.
Q: Why is education and outreach important for Gridserve?
Declan: "It's hugely important because so many people don't know much about EV's. There is not much media coverage of how owning one works or why it is a viable option. Reaching out to the local community is hugely important to educate and make people aware of how this all works, why it's important to to to drive electric and to push sustainability.
We also really want Gridserve to be a community hub, so the forecourts will be for the community. Alongside [the educational day] today, we've got Scouts coming for visits, we're going into local schools in the future. The more [young people] hear about them, or they're around the electricity and the electric cars and sustainable products, it hopefully becomes more normal for them and it just bleeds into everyday life."
Geography educators and their students are keenly aware that just attempting to be 'environmentally' sustainable or 'economically' sustainability in isolation simply doesn't make for a long-term sustainable project. So I was very pleased to see Gridserve reaching out to local community hubs. I was clear to me that they were treating the place not just as a service station, but as an education centre too.
Q: What examples can you give that you treat this space as an education centre?
Declan: "[You have] the role that I myself and colleague Sheridan do, and that is the 'gurus'. We spend a lot of our time hanging around talking to customers. We help them with charging [their cars]. About 60-70% of the people we get in now have just bought their car in the last month or so. [Many people] don't know much about EVs, so we spend a lot of time talking to people, teaching them about electric vehicles, how they work, what we do…

[Educational days] like today are huge for this as well. We're going to be hosting a lot more events of this nature and inviting people down to teach them, do talks and have interactive sessions as well. So it's really utilising the space for that and having people on site you can speak to, so it's not just a case of you coming and it's empty all the time and you do your own thing. If you don't drive electric, we'll talk to you about it without pressure. Although we do lease [electric cars] here we're are not salesman.
We're already talking to schools about hosting field trips hopefully from next year and we're putting together educational materials."
It was music to my ears that they will be welcoming school visits and paying visits to schools. So, to my geography teacher colleagues, if you're in the Braintree area or it's not too much of a trek then get in touch with the Gridserve folks! And as more forecourts open around the country, there will increasingly be options for your area.
On that note, I would hope that geographers would look at the Gridserve development with a critical eye. After all, the forecourt was built on a greenfield site on the edge of town which would surely be a black mark against it?
We are long past the stage now where new developments should simply be of neutral impact to the environment. They must be a net-positive to the environment and surroundings, and which help to remove carbon from the atmosphere. What did Declan have to say?
Q: What has Gridserve done to protect or enhance the environment when building this forecourt?
Declan: "We put a huge amount of effort into the land; there's a lot of green areas on site. All of the plants and trees that have been planted have been specifically chosen by our biodiversity manager. What we did was we cut down trees that were blocking the view to the forecourt but then replaced them elsewhere with 'better' trees that had a higher [ecological] value.

All of our solar farms that we have across the country have beehives and specially curated flowers and and greenery around."
Available to the public are all the consultation and planning documents for the builidng of the forecourt. You can access those along with the soft landscaping plans here. Official documents like these are fantastic stimuli to teach about development, and perhaps students themselves can make a judgement to what extent they fill the proposals are sustainable.
It's crucial that new developments are a net-positive to the environment. I like Gridserve's attempt to enhance the land by replacing ecologically low-valve trees and shrubs with those which improve biodiversity, for instance. We need to be nuanced in the 'greenfield vs browfield' development debate, because not all greenfield landscapes are the model of sustainability themselves. We need to be reversing the damage that we as a society have done, including turning natively vegetated areas into green monoculture. Gridserve also engage in a progressive tree-planting scheme. They recognise that the production of EVs generates carbon emissions themselves. And so, whenever Gridserve lease an eletric vehicle, they plant 100 trees to offset the production of that vehicle.
Despite the large solar canopy over the charging stations, the forecourt itself doesn't provide 100% renewable energy on-site. It is powered by the grid and then offset by a solar farm owned by Gridserve about 40 miles away. The farm puts all of it's power back into the grid offsetting use at the forecourt. However, as many future Gridserve forecourts as possible will be completely solar powered on-site.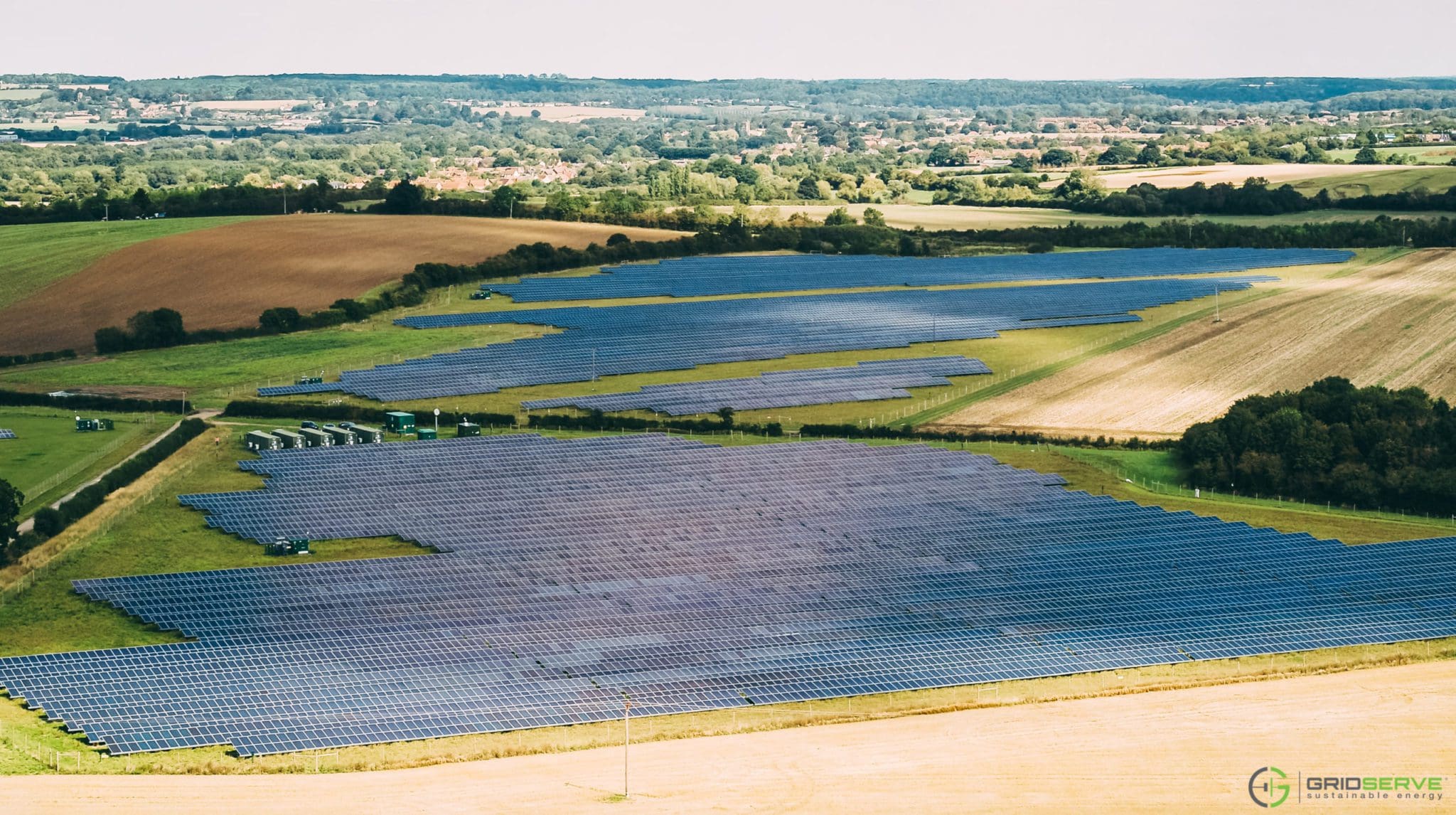 The second Gridserve forecourt of the planned 100 is already underway just east outside of Norwich. It is hoped that it will open early 2022. That's lucky for me as that will make it two forecourts within range of me, Braintree to the south and Norwich to the north. Hoping for one that can help me go west, next!
Electric Vehicles: More than just a mode of transport
I asked Declan a mind-blowing fact that he would like to share. It was the fact that electric vehicles can do more than simply get you from A to B. They can also act as mobile energy generator. The new Hyundai Ionic 5 is an example of this, where you can use an adapter to take energy from the car's battery to power appliance. This is called 'vehicle to load' or V2L. If you're fortunate to own solar panels at home, you can put clean energy into your car during the day, and power items in your house in the evening. You could even go further and have a V2H (vehicle-to-home) system where the car effectively becomes energy storage for use by the entire house.
How sustainable is the gridserve forecourt, really?
A development like Gridserve Electric Forecourt answers some of the valid criticisms of owning an EV. You can charge them with renewable energy rather than the mixed containing fossil fuels. You can enhance an environment through development. But although these developments are very much needed and welcome, they aren't the 'silver bullet' to fully accessible and greener ways of getting around.
I also spoke to Tom Yiangou, who works for the Climate Action Commission at Essex Council Council. He says that while it's pleasing to see East Anglia lead developments such as these, and that they are an important step towards carbon-neutrality and the electrification of transport, other methods of getting around still need investment.
Tom: "As we'd love to get people out of cars to active transport, cycling, walking and public transport, individual transport via cars is always going to be ingrained in society and so in that case we need to definitely try and promote the move towards electrification. It is an emerging industry that is going to have a huge influence on how we create more sustainable transport systems. But, the priority is getting people on their bikes, getting people walking and public transport."
The Gridserve Electric Forecourt will serve as a model for what is possible. This is why outreach is so important that even politicians are getting in on the act. But what do you think?
---
Video credits
---
Thank you! All my education work via the Geogramblings' "Life Geographic" blog is done all in my spare time, at my own cost but is free for you to access and enjoy. If you can spare a few pence, I'd be delighted if you could show your thanks by 'buying me a coffee'.
---
Share this: